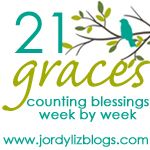 I am linking up over at
Jordy Liz Blogs
today for 21 Graces! Read this
post
to find out how you can join in to.
1. New friends!
2. Hanging new painting in master bedroom.
3. Long conversation with grandmother on the phone.
4. Monogrammed Nike running shorts from sister.
5. Four-day work week.
6. Teaching my precious 1st - 3rd graders in Children's Choir.
7. Hugs and kisses from my nephews.
8. Unexpected gifts.
9. Receiving snail mail that is not a bill!
10. Gummi bears.
11. Catching up on DVR'd shows.
12. Clean sheets on the bed.
13. Time to rest and be still.
14. Comfy pajamas.
15. Filling in the next month in my planner.
16. Fresh fruit and vanilla Greek yogurt.
17. Color and cut for my hair! (Why does this always make us feel better?)
18. Paying off a credit card.
19. Committing to and being able to spend 30-minutes each day in devotion and prayer.
20. Celebrating "100 Days to Graduation" with your senior class!
21. Leftovers.